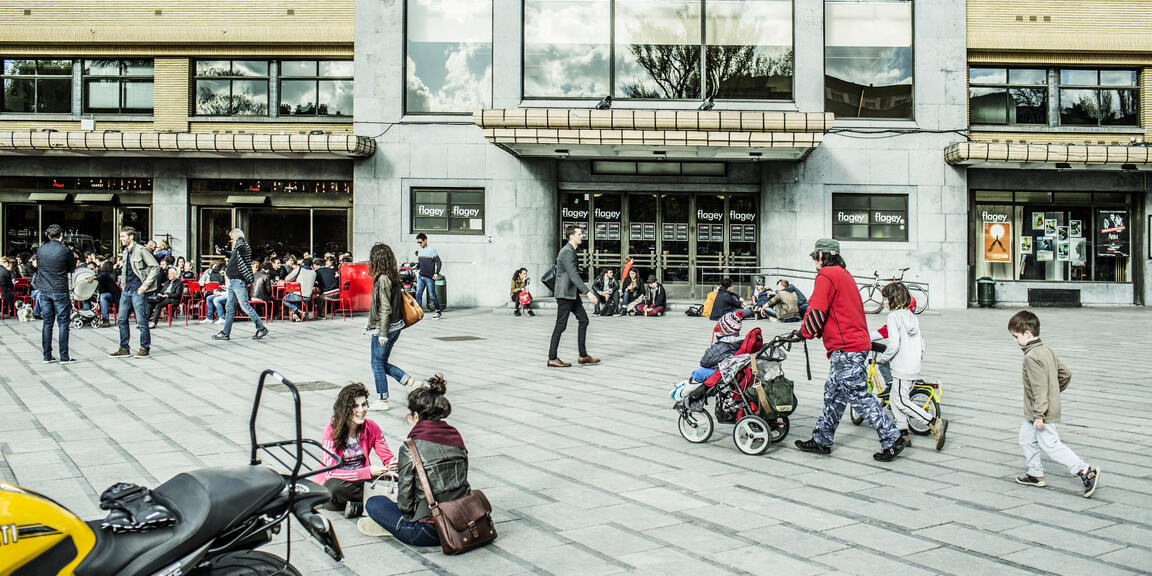 Entrance for the concerts and/or the cinema :
Place Sainte-Croix
1050 Brussels
Visitors with physical disability can enter Flagey via the main entrance on Place Sainte-Croix or through the ticket shop. Ask our reception staff upon arrival to guide you to the studio. There is a elevator in the building.
Offices:
Flagey asbl
Belvédèrestreet 27/5 (1st floor)
1050 Brussels
T : +32 02 641 10 10
E : info@flagey.be
Public transport
TRAM or BUS
Stop : Flagey
TRAM : 81 (direct access to Brussels-South station) - ATTENTION: Due to works on the tracks between the stops Église Saint-Antoine / Sint-Antoonkerk and La Chasse / de Jacht, tram 81 is interrupted between these stops from August 6 until October 4. Travelers are invited to walk between these stops (500m). Your journey might be delayed.
BUS : 38, 59, 60, 71 (direct access to Brussels Central station with bus 38 & 71) - ATTENTION: Due to works at the Chaussée d'Ixelles, bus 71 is deviated between August 5 and November 3. The bus does not stop at Porte de Namur/Naamsepoort but drives via Place de Luxembourg/Luxemburgplein. Your journey might be delayed because of this detour.
More information on www.stib.brussels
TRAIN
Flagey is close to a train station from the S-network: the train station Mouterij/Germoir. That stop is served by the S5 (Halle-Mechelen) and S9 (Braine-l'Alleud - Landen). More information on www.belgiantrain.be
Bicycle
There is a Villo station on Place Flagey. Bikes, scooters, and motorbikes can be parked on Place Sainte-Croix.
Car
Free-floating car sharing
Drive Now
Parking
Under the Place Flagey there is an underground parking, with 186 places.
A proxiparking is accessible under the Faculté d'Architecture La Cambre Horta on Friday and Saturday from 6PM to midnight (€6 a night). Please note: this parking will be closed in July and August. Starting September 9, the parking will be open again.
Collecto
There is a Collecto station on Place Flagey, a collective or shared taxi service available from 11 PM to 6 AM 7 days a week within the Brussels-Capital Region. Pay only € 5 if you have a MOBIB card or € 6 for your ride. More information on www.taxisverts.be/en/collecto