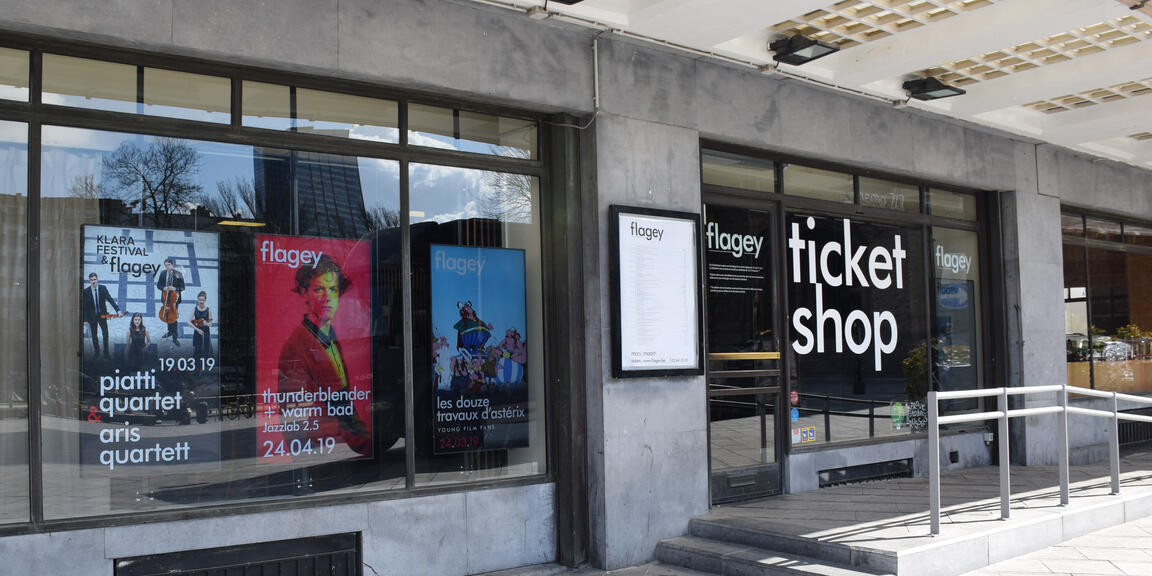 Our ticketshop and call center are currently closed. We invite you to buy your tickets on our website.
Feel free to contact us at info@flagey.be for general questions or at ticket@flagey.be for questions about your ticket(s). We will get back to you as soon as possible.
How to book
Online
www.flagey.be
Payments : Visa, Mastercard, virement bancaire, ING online, KBC online, Dexia Netbanking, Bancontact/MisterCash, iDEAL
Booking Fee : € 1/ticket
Flagey Gift Card
Do you want to surprise your friends or family?
Then the Flagey Gift Card is up to the task! You can choose the amount that you want to give and it can be used online on our website to buy tickets for our events.
How do I buy a gift card?
Online on this page (you will receive the gift card by e-mail). The Flagey Gift Card is valid for one year. The expiry date is indicated on the card. This card is not redeemable for cash. We are not responsible for any loss.
Have you received a gift card?
To buy your tickets online, on the "Choose the payment and delivery method" screen, click on "Use a gift card" and enter the unique code (without dashes or spaces) of your gift card, then click OK'. After purchase, the remaining balance will be saved and can be used later. If the amount of your purchase exceeds the value of the gift card, then choose a payment method in the same screen to pay the rest of the amount.