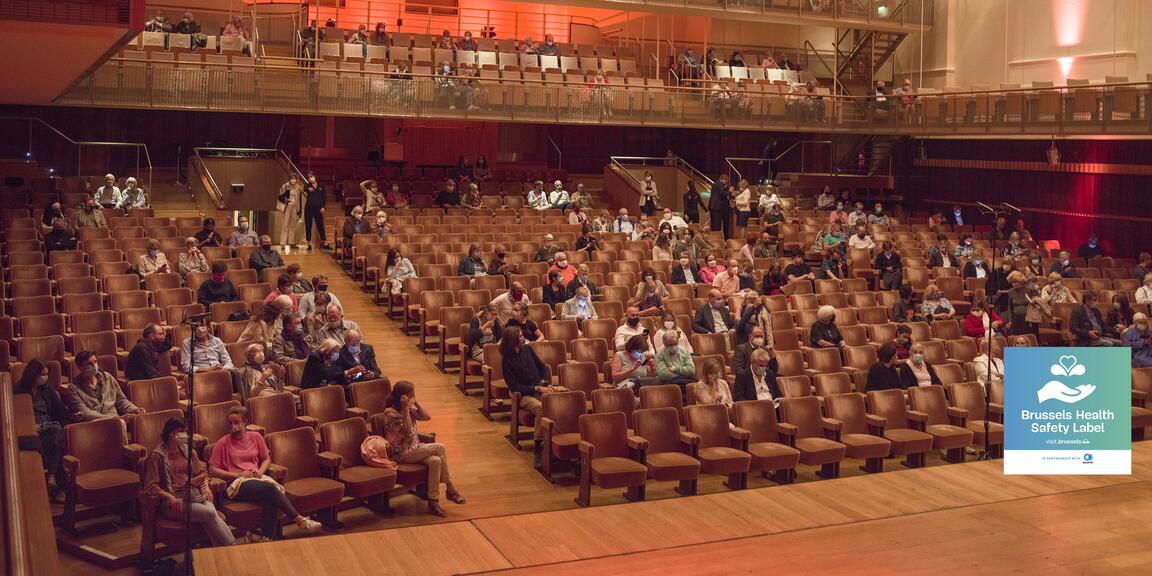 To make your visit to Flagey run safely, there are a few important things you need to know.
Flagey has received the 'Brussels Health Safety Label'
Buy your tickets online
We recommend to buy your tickets on www.flagey.be. You can also send an email to ticket@flagey.be.
While allocating the best places available, our online sales system automatically leaves enough space between the different visitor bubbles in the room. Do you want to come to a concert or screening with several people from your bubble? Then please buy all your tickets at once. By doing so you will sit next to the people from your bubble.
Come on time, but not earlier than 30 minutes before the event
Come to Flagey on time, but not earlier than 30 minutes before the start of the event. Only then, we will open the doors. Our concerts start on time and latecomers cannot enter the studios anymore.
Wear a face mask
If you are over 12 years old, we ask you to wear your face mask during your entire visit to Flagey. If you cannot wear a mask or any fabric alternative due to medical reasons, you may use a face shield.
Ticket scan at entrance
Please keep your tickets close at the entrance (on smartphone or on paper), in order to scan them according to our instructions.
Are you coming to a concert? Check in advance whether you are in an odd or even seat. At the entrance of Flagey we split the concert visitors according to even and odd ticket numbers.
The entrance for cinema visitors is through the ticket shop. If you already bought your ticket, you can immediately go to the entrance of Studio 5 to avoid the queue of people waiting to buy tickets.
Safety measures in the public areas and in our Studios
As soon as you enter our building, there is a specific visitors flow. The Flagey building has many entrances and exits, allowing us to safely manage the crowd. Thanks to the spacious corridors, you can easily keep a safe distance to other visitors.
Seats are numbered. You can find the number of your seat on your ticket. To guarantee the physical distance, we leave two unoccupied seats between the different visitor bubbles in the Studio 4 (1 unoccupied seat in Studio 1 & 5) and the row in front and behind the occupied row is not used. We allow maximum 200 persons in one room. By doing so, we follow the most recent government guidelines for the arts sector.
Our cloakroom and bars are closed and there is no intermission. You will be able to place your jacket and/or bag on the seat next to you. We advise you to bring as little belongings as possible.
After the concert in Studio 4 and Studio 1, we ask you to remain seated until the lights are turned on again and to follow further instructions from our staff. In Studio 5 we ask you to keep enough distance from other visitors when leaving the studio.
We continuously purify the air in our building with 100% fresh air and regularly disinfect surfaces that are frequently touched. Our studios and public areas are always cleaned before and/or after a concert or film screening.
Wash or disinfect your hands regularly
Proper hand hygiene is important. We therefore ask you to always disinfect your hands when you enter Flagey. You will find several displays in the building to disinfect your hands. Also wash your hands thoroughly after a visit to the toilet.
Toilet visit
If possible, go to the toilet before entering Studio 4 to avoid too many movements during the concert. The number of people in the sanitary areas is limited and is indicated before you enter the area. The toilets, as well as sensitive areas such as handles, are regularly cleaned and disinfected by our team.
When is it better to stay at home?
If you don't feel well or make a fever, please stay home to protect yourself, the other visitors and our staff. If you had Covid-19 symptoms in the seven days before the event, we also kindly ask you to stay at home.
Do you have to stay in quarantine due to a decision of the authorities (after travelling to a red zone, if you were in contact with infected person, etc)? Then we also kindly ask you to stay at home.
Contact tracing
To facilitate contact tracing, we keep an attendance register of visitors and employees for each event. If the Contact Tracing Center asks us to share the contact details of a particular event, we will do so if you have agreed that we share this information. When purchasing a ticket, we will ask you if we can share your contact information with the government. If you do not agree, we will not share your contact information. You can also read about this in our privacy policy.
Do you have a reduced mobility?
Please contact us in advance on ticket@flagey.be Together we can check if you have an accessible place in Studio 4 and how we can guide you to your seat on the evening of the concert.
Do you have any other questions?
You may find the answers in our Covid-19 Frequently Asked Questions section. Feel free to contact us at info@flagey.be for general questions or at ticket@flagey.be for questions about your ticket(s).
We are there for you
Our staff wears a face mask for their own and your safety. They also wash or disinfect their hands regularly. We are very much looking forward to your visit and we will do everything to make sure you have a nice evening.