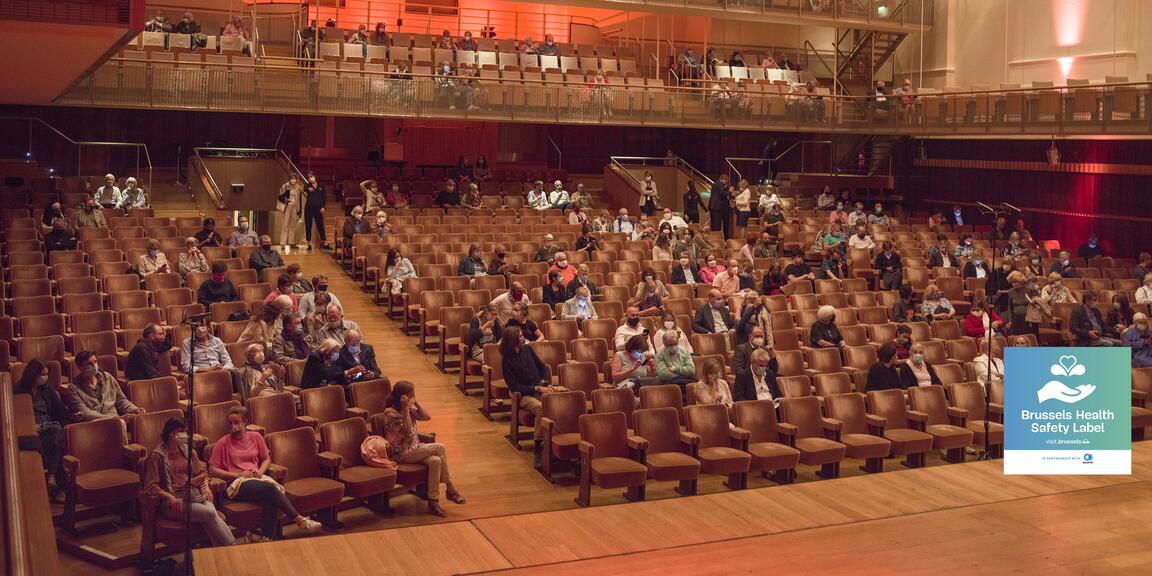 Our Covid-19 safety measures
Flagey has received the 'Brussels Health Safety Label'
Covid Safe Ticket
From 7 March 2022, you don't need to present a Covid Safe Ticket to attend our events.
Face mask
From 7 March 2022, the wearing of a mask is not compulsory anymore in Flagey. It is nevertheless recommended for medically vulnerable people.
Hand hygiene
Good hand hygiene is critical. We therefore ask you to systematically disinfect your hands when entering Flagey. Hand sanitisers are available throughout the building. Finally, remember to wash your hands thoroughly after using the toilet.
Precautionary principle
If you don't feel well or have a fever, please stay at home to protect yourself, other visitors and our staff.
Ventilation of the studios
In order to ensure clean air in its venues, Flagey has an excellent high-performance ventilation system. Since the beginning of the health crisis, this system has been running at full capacity, pumping in 100% outside air at all times. CO2 sensors have also been placed in the studios to measure the concentration of CO2 and ensure we meet the standards recommended by the Coronavirus Committee.
Cleaning and disinfection of the studios
Our studios and all areas accessible to the public are cleaned before each event. Particular attention is paid to contact surfaces, which are disinfected on a regular basis.