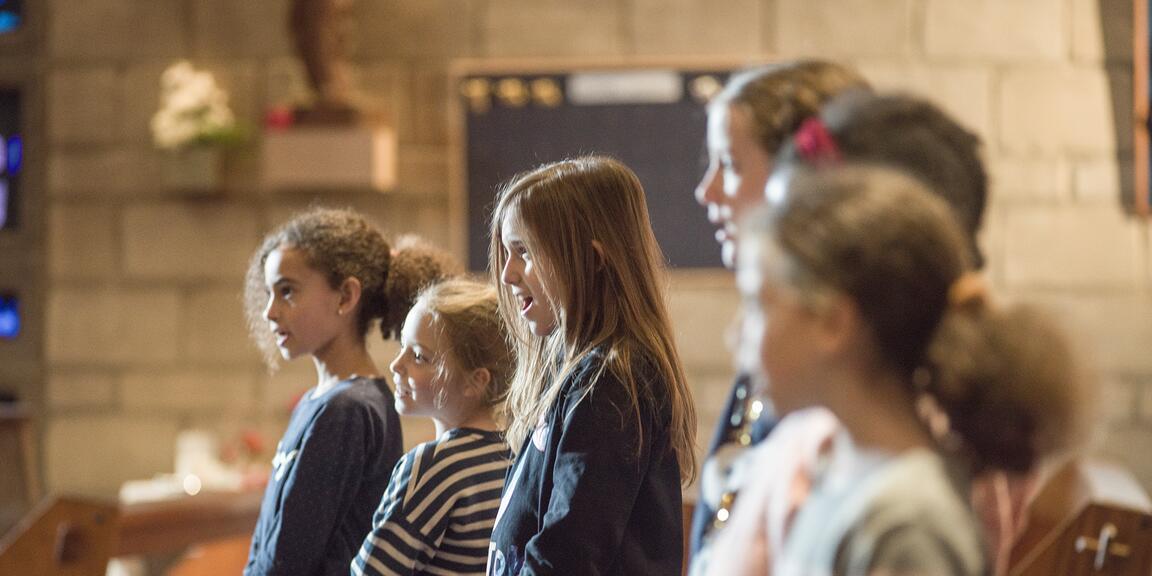 The choir members are trained by a professional team of choir conductors, vocal coaches and music teachers who accompany them on a weekly basis.
Helen Cassano, conductor
Helen Cassano is a Belgian singer, conductor and musicologist with Spanish and English roots. She studied in Madrid, London, Brussels, Leuven and The Hague. As an ensemble singer, she sings both in Belgium and abroad with the Vlaams Radiokoor and the Huelgas Ensemble, and has participated in several award-winning CD recordings. She is well known as the conductor of the Brussels Chamber Choir, which she founded in 2007. Helen will take on the direction of Flagey Academy, and together with the artistic committee and the Flagey Academy team, she will determine the method and further steps of the choir programme.
Zeno Popescu, conductor preparatory choir programme
The Romanian tenor Zeno Popescu studied theology and musicology at the West University of Timisoara and specialised in church history and oecumenical theology at the San Bernardino Institute in Venice and at the Catholic University of Leuven (KU Leuven). Since October 2004 he has been a member of the Queen Elisabeth Music Chapel, under José Van Dam. In 2005 he made his debut at La Monnaie/De Munt. He has been the conductor of the Equinox children's choir (Queen Elisabeth Music Chapel) since 2013, and in 2014 he founded the Singing Molenbeek children's choir. Since 2019 he has been in charge of Flagey Academy's preparatory choir programme in primary schools in Brussels.
Nando Tilkin, conductor preparatory choir programme
Nando Tilkin graduated in 2020 from The Royal Conservatory of Brussels, where he obtained his Professional Bachelor in Musical Theatre (Singing, Dancing and Acting). He previously gave music classes for the Musikalo wind band in Ternat, later for the De Eendracht brass band in Westrode. Currently, he is also active as a vocal coach at Vocal Coaching Leuven and is training as a teacher of Musical Theater at the Erasmushogeschool Brussel. Recently, he became part of the Flagey Academy team and leads the choir in Anderlecht. Professionally, he is part of the Ghent cabaret collective 'Les Quatre au Quai'.
Pieter Vandaele, music theory teacher
Pieter Vandaele studied cello in Didier Poskin's class at the Royal Conservatory of Brussels and then took a Bachelor's degree in 'Musiques Appliquées' at ARTS² - Conservatoire royal de Mons under Denis Pousseur. In the same institution, he obtained a Master's degree in composition and didactics in the class of Jean-Pierre Deleuze. He wrote his Master's thesis on "the need for horizontal thinking in teaching harmony". Pieter has been part of the Flagey Academy team since 2019 as a teacher of music theory, and is active as a composer for theatre and children's theatre.