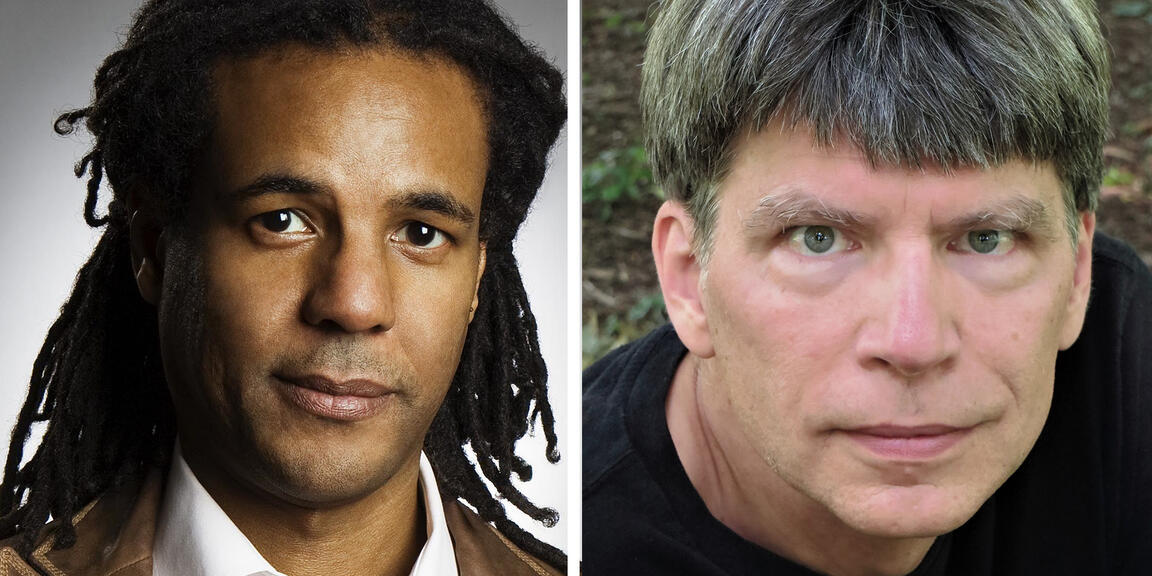 Passa Porta : Festival America
Colson Whitehead & Richard Powers
Two important American voices
Every two years Festival America invites the most important North American writers for a major event in Vincennes, near Paris. As in 2016, the festival now also offers a prelude in Brussels, with an exceptionally interesting line-up of American authors: Richard Powers and Colson Whitehead.

Richard Powers

Richard Powers (b. 1957) has been a familiar name to amateurs of contemporary American prose for a long time already. Since The Goldbug Variations (1993), completed when Powers was still living in the Netherlands, he has been known as a master of the encyclopedic novel. Science, technology and virtual reality but also love, music and American history are the main themes of his oeuvre.
In September 2005 Richard Powers was in residence in Brussels at the invitation of Passa Porta. It is here that he put the finishing touches to his ninth novel, The Echo Maker, crowned with the National Book Award. With The Overstory, a new, ambitious novel that connects the lives of his characters with those of trees, he confirms what Margaret Atwood once said about him: 'It is impossible for Richard Powers to write an uninteresting book'.
'This ambitious novel soars up through the canopy of American literature and remakes the landscape of environmental fiction' . – The Washington Post

Colson Whitehead

Born in New York in 1969, Colson Whitehead broke through on the international stage in 2016 with his sixth novel, The Underground Railway, with which he won both the Pulitzer Prize and the National Book Award in the same year, something few authors had achieved before him.
'Whitehead shows that it is still possible to make wonderful, powerful literature out of familiar subjects and predictable feelings.' – De Groene Amserdammer
A prestigious literary evening, jointly organized by Francis Geffard (director of Festival America), Passa Porta and Flagey.
Flagey, Passa Porta