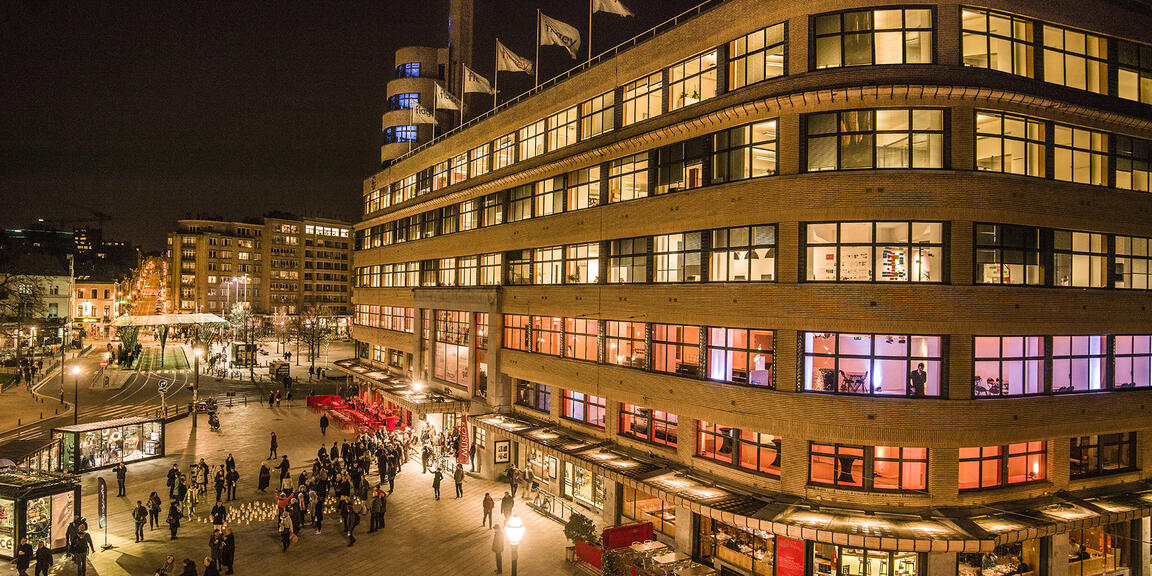 Would you like to drink or eat something before or after your activity at Flagey? Here are some helpful tips.
COVID-19: Please contact the restaurants directly to check their new schedules and booking systeem in the framework of the corona crisis.
Flagey Bar
Thanks to the Covid Safe Ticket, our bars are once again open one hour before the concert starts and after it ends: take advantage and discover our new menu! For your comfort and safety, Flagey will adapt the number of bars available according to attendance. We strongly encourage you to use contactless payment.
Le Variétés
Place Sainte Croix 4
1050 Ixelles
www.levarietes.be
Lunch: Mon -> Fri 12 PM-2:30 PM – Sat > & Sun 12 PM-3 PM
Dinner: Mon > Thu 6 PM-10:30 PM (except on days with performances: open till midnight) – Fri & Sat 6 PM-11 PM – Sun 6 PM-10 PM
Restaurant, brasserie and rotisserie at the foot of the Flagey building. Le Variétés offers gourmet French-Belgian cuisine. On presentation of your concert ticket of Flagey, a coffee or a tea is offered by the restaurant to finish off your meal (valid only on the same day).
Le Patio
Avenue Général de Gaulle 3
1050 Bruxelles
www.le-patio.be
Tue > Sat 12 PM-2:30 PM and 6:30 PM- 10:30 PM
Kitchen open on Sunday from 12 PM till 10:30 PM
Closed on Monday on Tuesday evening.
The Patio offers a fresh, bistronomic cuisine, developed and prepared by the chef and his team. If you are attending a concert in Flagey, show your ticket and get a free cup of coffee or tea at the restaurant to finish your meal. Only on the same day.
Humus x Hortense
Rue de Vergnies 2
1050 Bruxelles
www.humusrestaurant.be
Lunch: Wed > Sat 12 PM-2:30 PM
Dinner: Tue > Sat 6 PM – 10 PM
Vegetarian cuisine of the Chef-légumes de l'année 2019 (Prix Gault & Millau) with creations of Hortense cocktails. Cultural lovers can choose the "Pre-theatre Menu" with 3 dishes (€30) which is served within 90 minutes (between 6 PM and 7:30 PM) to ensure you'll be on time for your concert or film presentation.
Racines
Chaussée d'Ixelles 353
1050 Ixelles
www.racinesbruxelles.com
Open Mon > Fri lunch and dinner. Closed Saturday for lunch and on Sunday.
Racines serves a three-course menu 'Del Teatro' of the market, of the chef, or à la carte. This selection of dishes represents their philosophy and is served within 90 minutes. The menu is only available on presentation of a Flagey concert or movie ticket.
Le Petit Racines
Chaussée d'Ixelles 347
1050 Ixelles
www.racinesbruxelles.com
Open Tue - Sun, 6:30 - 10:30 PM. During the shows at Flagey, the kitchen will close at 11 PM).
This bistro is the place to be for a fresh pasta and a wine bar.
Les Pénates
Rue de Vergnies 42,
1050 Ixelles
www.lespenates.be
Les Pénates is a restaurant and tapas bar with a large choice of wine. The chef changes the menu regularly. Therefore, whether you are a carnivore or vegetarian, whether you have a small or big hunger, know that there will be something for all tastes and appetites. The restaurant gives 20% off their menu (excluding drinks) on presentation of a ticket for a Flagey show on the day.
Open Mon > Fri 5:00 PM - 1:00 AM – Sat > Sun 11:00 AM - 1:00 AM (kitchen open until midnight)