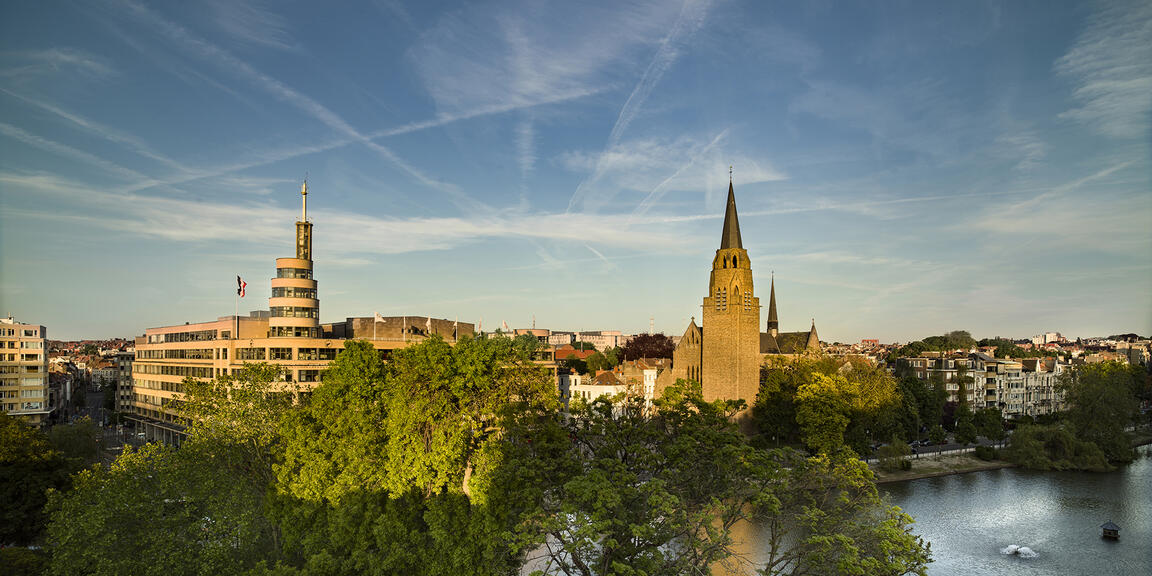 Main entrance
Entrance for the concerts
Place Sainte Croix
1050 Ixelles
Offices:
Flagey asbl
Belvédèrestreet 27/5 (1st floor)
1050 Brussels
T : +32 02 641 10 10
E : info@flagey.be
Visitors with reduced mobility
Do you have a reduced mobility? Please contact us in advance on ticket@flagey.be Together we can check if you have an accessible place in Studio 4 and how we can guide you to your seat on the evening of the concert.
TRAFFIC TEST AROUND FLAGEY FROM 2 MAY 2023
A traffic test will be implemented from Tuesday 2 May in the Flagey area. You will find here a map of the main accesses to the Flagey square.
Public transport
TRAM or BUS
Stop : Flagey
TRAM : 81 (direct access to Brussels-South station)
BUS : 38, 59, 60, 71 (direct access to Brussels Central station with bus 38 & 71)
More information on www.stib.brussels
TRAIN
Flagey is close to a train station from the S-network: the train station Mouterij/Germoir. That stop is served by the S5 (Halle-Mechelen) and S9 (Braine-l'Alleud - Landen). More information on www.belgiantrain.be
Bicycle
There is a Villo station on Place Flagey. Bikes, scooters, and motorbikes can be parked on Place Sainte-Croix.
Car
We recommend coming by public transport or considering alternative means of transport to avoid traffic and parking problems.
Since October 2022, the Good Move plan and the Flagey-Vijvers local mobility contract have been in effect in Brussels. The direction of traffic has changed in some places.
Remember to check if your usual route has changed and take into account possible delays.
More information about the Good Move plan and the local mobility contract Flagey-Vijvers.

The Brussels Capital Region is a low-emission zone (LEZ). Check the lez.brussels website to see if your vehicle is allowed.
Free-floating car sharing
Poppy
Miles
Cambio (dedicated car park at Place Flagey)
Parking
Some evenings, it may be difficult to park in Flagey. We recommend leaving well in advance and arriving by public transport.
- Parking Indigo Place Flagey: 186 spaces available. Reservations are possible and highly recommended, as this car park fills up quickly.
- Proxiparking - Flagey (1 min walk - Boondaalsesteenweg 1, 1050 Brussels): reservation recommended the Zenpark website.
- Zenpark - Bailli Ibis Styles (8 min. walk - Lensstraat 17, 1000 Brussels): reservation required via the Zenpark website.
- MyPark Louise-Vleurgat (10 min. walk - Vleurgatsesteenweg 164, 1000 Brussels): 120 places, reservation not possible.
- BePark Louise (11 min. walk- Avenue Louise 225, 1000 Brussels): reservation recommended on the website.
- Delta transit car park (Jules Cockxstraat 224, 1160 Auderghem): from this car park you can take bus 71 to Flagey.