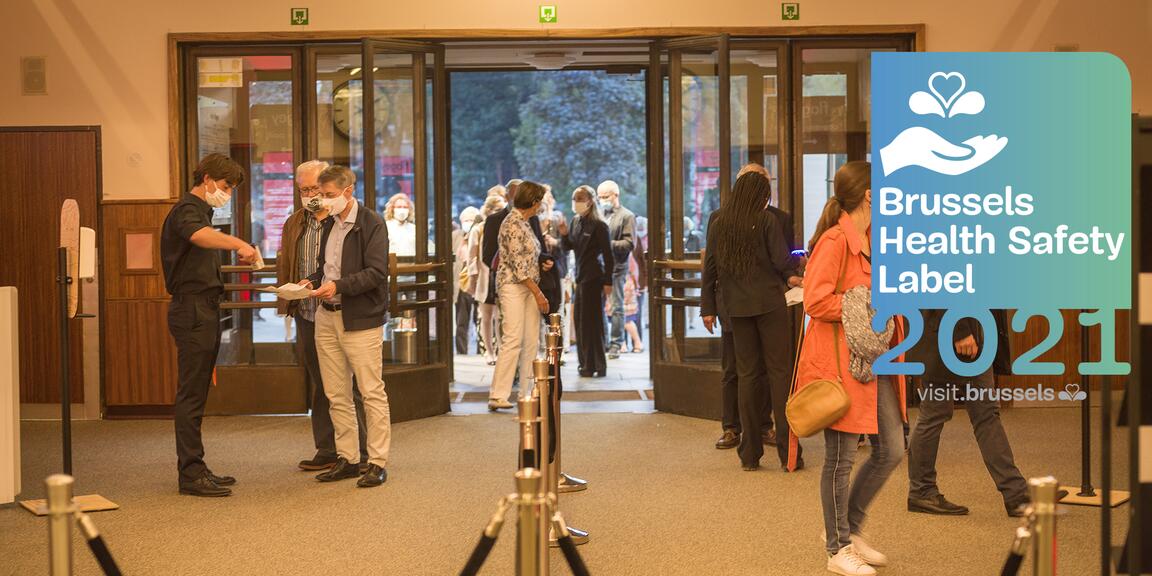 Frequently Asked Questions
What measures have you put in place in the context of the health crisis we are experiencing?
Good hand hygiene is critical. We therefore ask you to systematically disinfect your hands when entering Flagey. Hand sanitisers are available throughout the building. Finally, remember to wash your hands thoroughly after using the toilet.
In order to ensure clean air in its venues, Flagey has an excellent high-performance ventilation system. Since the beginning of the health crisis, this system has been running at full capacity, pumping in 100% outside air at all times. CO2 sensors have also been placed in the studios to measure the concentration of CO2 and ensure we meet the standards recommended by the Coronavirus Committee.
Our studios and all areas accessible to the public are cleaned before each event. Particular attention is paid to contact surfaces, which are disinfected on a regular basis.
If you don't feel well or have a fever, please stay at home to protect yourself, other visitors and our staff.
Do I need a Covid Safe Ticket to attend an event?
No. From 7 March 2022, you don't need to present a Covid Safe Ticket to attend our events.
Is it compulsory to wear a face mask at Flagey?
No. From 7 March 2022, the wearing of a mask is not compulsory anymore in Flagey. It is nevertheless recommended for medically vulnerable people.
Is there a cloakroom? Are the bars open?
Our cloakroom and bars are once again accessible: take advantage and discover our new menu!
Can I sit next to the person(s) accompanying me?
Yes. You can choose your seat yourself when you buy your tickets.
I am not very comfortable with buying online: how can I get my tickets?
You can send an e-mail to ticket@flagey.be giving us your telephone number. We will get back to you as soon as possible.
Are visitors with reduced mobility welcome at Flagey?
Of course, everyone is welcome at Flagey. May we ask you to contact us in advance on ticket@flagey.be? Together we will book an accessible seat in the hall and see how we can guide you to your seat on the evening of the event.
How can I contact Flagey if I have a question?
You can send an e-mail to ticket@flagey.be.
Can I enter the studio if I am late?
Latecomers are only allowed in the room during applause or during the break. The person who leaves the room during the activity can only come back during the applause or during the break.
Will there be a waiting list for sold-out events?
Yes, subscription for the waiting list is now done directly on our site, on the page of the event you wish to attend.
What are the payment options available?
For online reservations, you can pay by bank transfer, bank card or credit card. In our ticketshop all means of payment will be accepted, but we ask that you give priority to payment by card.
I forgot my ticket. Where and how can I get a duplicate?
You can download your ticket on your smartphone and have it scanned by us. You can also request a duplicate at the ticketshop.
Can I still buy tickets on location the evening of the concert?
In order to avoid waiting lines at the entrance, we ask you to book your tickets in advance online.
Do I get a programme booklet at Flagey?
With some exceptions, we do not distribute printed programmes. A few days before the concert, we will send you a digital programme booklet by e-mail. At Flagey you will be able to scan a QR code in order to read this information on your mobile device in the concert hall. Thanks to the black background of the document - no lighting up - you will not disturb other visitors. However, don't forget to turn off the sound of your device before you enter the hall.
Are all tickets nominative?
Each person who books tickets must give his/her name and contact details so that we can contact him/her if the event is cancelled, postponed or undergoes any change. When ordering, we ask for your agreement to share your contact details with the Belgian authorities who may request this as part of the COVID-19 tracking.
What will happen to my ticket if future COVID-19 measures force Flagey to close again?
We will contact you and offer an exchange or refund.
My Studio 5 card expired during the lockdown. What happens now?
Your card will be extended by 6 months from the moment the Cinematek-programme in Studio 5 starts again. Please come to the ticketshop to request an extension of your card.
My gift voucher expired during the lockdown. What happens now?
Send an e-mail to ticket@flagey.be with the number of your voucher. The remaining balance will be extended for 1 year.