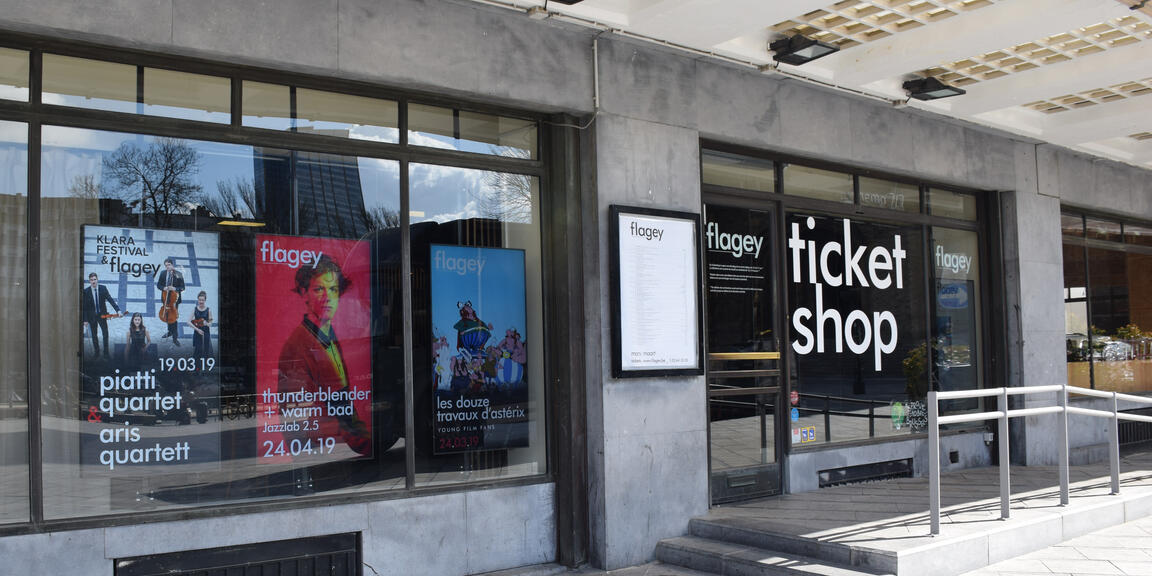 Online
www.flagey.be
Payments : Visa, Mastercard, virement bancaire, ING online, KBC online, Dexia Netbanking, Bancontact/MisterCash, iDEAL
Booking Fee : € 1/ticket

Ticketshop Flagey
Place Sainte-Croix/Heilig-Kruisplein
1050 Brussels
www.flagey.be
Tue > Fri – 12:00 > 17:00
Outside these hours, we are also open one hour before each activity, until the start of the last activity, also on Monday, Saturday, Sunday and public holidays.
Summer opening hours : Between 21/7 and 15/8, the callcenter will be closed. The ticket shop opens only one hour before the start of each event.
Call center
Tue - Fri – 12:00 > 17:00
T : 02 641 10 20
Flagey Gift Card
Do you want to surprise your friends or family?
Then the Flagey Gift Card is up to the task! You can choose the amount that you want to give and it can be used online on our website or in our ticket shop to buy tickets for concerts, film screenings, conferences or other activities in Flagey.
How do I buy a gift card?
Online on this page (you will receive the gift card by e-mail) or in our ticket shop.
The Flagey Gift Card is valid for one year. The expiry date is indicated on the card. This card is not redeemable for cash. We are not responsible for any loss.
Have you received a gift card?
To buy your tickets online, on the "Choose the payment and delivery method" screen, click on "Use a gift card" and enter the unique code (without dashes or spaces) of your gift card, then click OK'. After purchase, the remaining balance will be saved and can be used later. If the amount of your purchase exceeds the value of the gift card, then choose a payment method in the same screen to pay the rest of the amount.
To buy your tickets in our ticketshop, simply present your gift card at the cashier. The remaining balance will also be saved for later use.

Discounts
À la Carte: -25% when purchasing min. 4 tickets for different events of your choice. Except the Hosted Events and cinema screenings.
Cineflagey card: 5 films for € 33
Discounts:
-26, +65, unemployed (with an official document), disabled, members of the Vif Club, Knack Club for the Flagey's productions in Studio 4).
For all concerts by Brussels Philharmonic and the co-productions with he Queen Elisabeth Music Chapel in Studio 4, tickets are available at €12 if you are under 26 and at €5 if you are under 18.
Most festivals offer passes at reduced prices.
Not all reductions are accessible online. Please contact our ticketshop team by e-mail (ticket@flagey.be) or by phone (02/641.10.20).
Group rate: Buy min. 10 tickets for the same event and get 10% off the price.
Culture passes: Flagey accepts Sodexo and Edenred sport & culture passes.
Flagey is a partner of Arsène 50, Article 27 and Paspartoe. These reduced rates are not available for all our activities. Please contact our ticketshop if you want to be sure.
Paspartoe:
Paspartoe is the leisure time passport to Brussels. Paspartoe gives you access to a fantastic range of cultural, youth and sporting activities at a reduced rate. Sport camps, cookery courses, theatre: Paspartoe is your key to leisure time activities in Brussels!
Paspartoe is a loyalty card: it allows you to save up points whenever you take part in an activity organised by a Paspartoe provider. So make sure to always scan your Paspartoe at a Paspartoe column or Paspartoe desk!
Paspartoe is a discount card. Saved up number of points? Then redeem them for some nice treats such as a free drink, a gadget or a reduced entrance fee. You can do so from as little as 5 points!
Paspartoe applicants automatically receive a welcome pack containing: Newcomer freebies, such as an MIVB ticket, a present and 2 points. A € 6 culture voucher that will give you a discount on cultural activities organised by Paspartoe providers.
Check out paspartoebrussels.be for a list of Paspartoe providers and benefits.
Info : www.paspartoebrussel.be | info@paspartoebrussel.be | 02 278 11 11