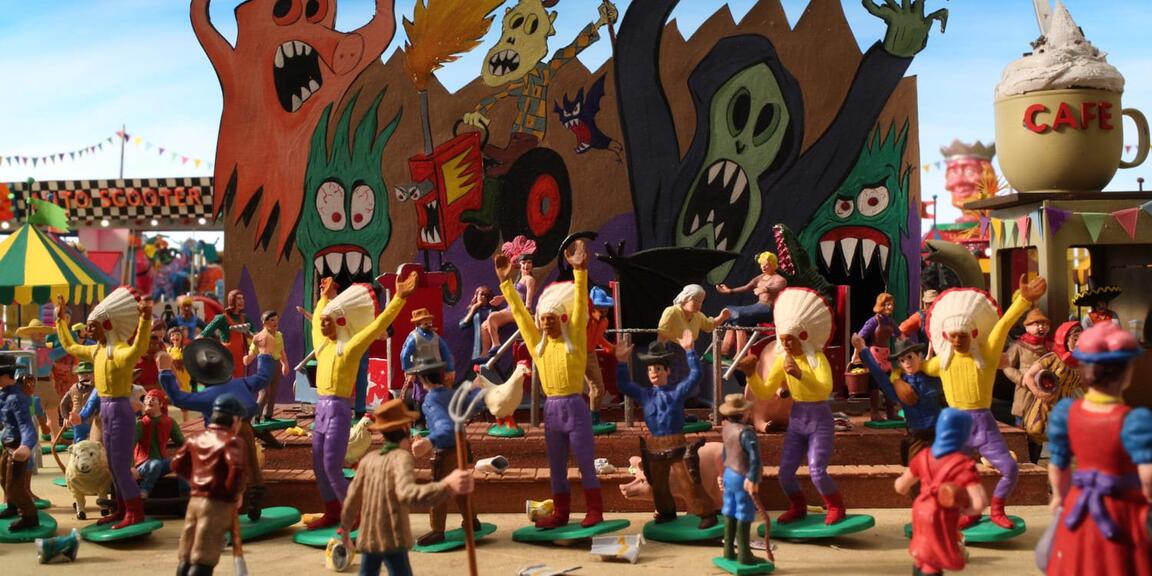 The closing ceremony is going to be an exceptional affair this year. It will open with a cinema show from 1914, continue with the announcements of the winners of the different competitions and close with a brand new film, hot from the lab! And for those who only love award-winners, Anima is offering a selection of "Emile Awards" as a pre-ceremony snack!
The Ceremony
The closing ceremony includes (without break): Gertie's performance, the announcement of the winners and the screening of the premiere of La Foire agricole.
Gertie the Dinosaur, Winsor McCay (20' - ENG OV)
Gertie, the dinosaur does (more or less) what's demanded of her: she bows, she eats, she dances. Gertie the Dinosaur was one of the first cartoons in the history of the cinema, and she obeyed her flesh-and-bone creator, Winsor McCay, one of animation's pioneers. Today Gertie will be obeying the actor Eli Thorne, in a delightful reconstruction of the cinema show from 1914.
With Gabriel Thibaudeau at the piano and Eli Thorne as Gertie's tamer.
Reconstruction of the show, based on a script by Donald Crafton under license from Creative Commons Attribution 4.0 International.
The reconstruction of the film Gertie was done by the Cinémathèque québécoise and the National Film Board of Canada with the collaboration of Notre-Dame University.
Announcements of the Winners
The ceremony's super presenter, Stéphanie, will break the suspense with these announcements much anticipated by all the filmmakers who confided their "babies" to Anima in the various competition categories. Jury awards, Audience awards, Partner awards… who will they be?
La Foire agricole (FRE OV - DUT/ENG SBT)
Vincent Patar and Stéphane Aubier, Belgium/France, 2019, 26'
Following on from their crazy adventures in The Christmas Log and Back to School Panic, Cowboy and Indian want to go and have some fun at the agricultural fair. After a skateboard accident which leaves him amnesic, Horse can't remember where he's hidden the tickets. Cowboy and Indian decide to build a time machine to help him find them. And that's when the trouble starts…
Flagey, Folioscope