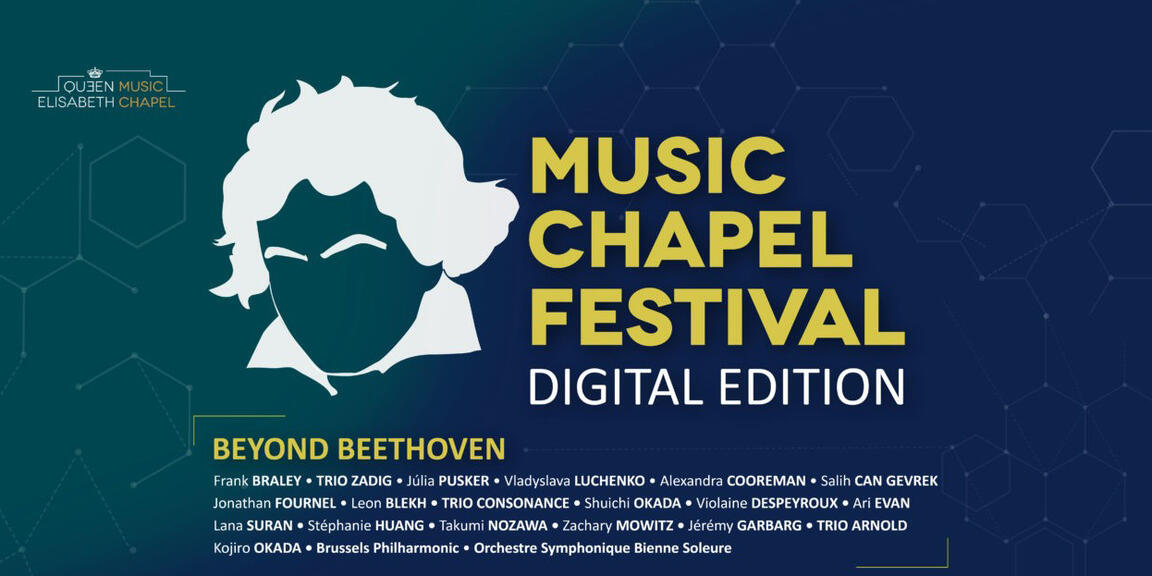 Music Chapel Festival - Digital Edition
Music Chapel Festival 2020, an edition like no other
The circumstances surrounding this new lockdown have led the Queen Elisabeth Music Chapel to be ever more creative and to rethink the 11th edition of the Music Chapel Festival devoted to Beethoven and his contemporaries. This edition will therefore be proposed in a digital version without an audience. It will be broadcast for you to enjoy at home!
26.11.20 - 20:00 | Opening Concert
Shuichi Okada, Alexandra Cooreman, Violaine Despeyroux, Takumi Nowaka,
Zachary Mowitz & Jérémy Garbarg
28.11.20 - 20:00 | Symphonies
Salih Can Gevrek & Jonathan Fournel
02.12.20 - 20:00 | Prestige Concert: Concerti
Orchestre Symphonique Bienne Soleure, Kaspar Zehnder
Vladyslava Luchenko, Frank Braley, Leon Blekh & Shuichi Okada
04.12.20 - 20:00 | Prestige Concert
Livestreaming from Flagey, Studio 4
Brussels Philharmonic, Stéphane Denève
Trio Zadig & Jùlia Pusker
Find out here more about the programme and the artists
07.12.20 - 20:00 | Trios
Trio Consonance
10.12.20 - 20:00 | Cello Sonatas
Ari Evan, Stéphanie Huang, Lana Suran & Salih Can Gevrek
If you wish to support the artists of the Music Chapel, you can make a donation via this link!
This unprecedented version of a festival spread over several emblematic venues and in digital version, in accordance with this year's specific requirements, bears witness to the desire to mark the end of the 250th anniversary of Beethoven's birth on a high note.