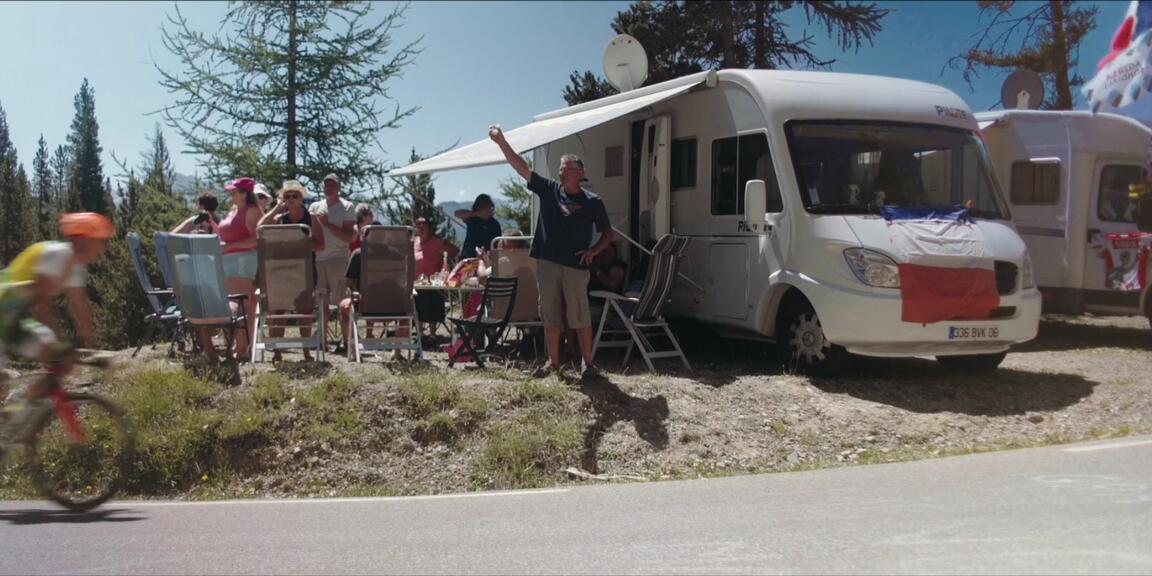 Holy Tour
La Grand Messe | Valéry Rosier & Méryl Fortunat-Rossi
The Tour de France.
Faithful followers converging on a mountaintop,
A stage of the legendary bicycle race is coming,
Throngs of RVs 'round the bend:
The ritual gathering has begun.
Flagey, Brussels International Film Festival
---
Valéry Rosier
Valéry Rosier directed his first short film in 2008, entitled Bonne Nuit, winner of awards at a dozen festivals. In 2011 he produced and directed Dimanches, winner of the Kodak Discovery Prize for Best Short at the 50th Critics' Week at Cannes, among other awards. In 2013 he made his first documentary, Silence Radio, and in 2014 directed Babel Express, a series of 26-minute documentaries produced with ARTE. He has also worked as an assistant on numerous feature films and has participated in video-art projects with the Belgian artist, Pierre de Mûelenaere.
Méryl Fortunat-Rossi
French director born in Arles on April 24th, 1979. He discovered photography in High school before turning to the cinéma. Between 1998 and 2000, he directed a few amateur short films before coming to Belgium to study film making at the « Institut des Arts de Diffusion » (IAD) from 2001 to 2005. In 2011, he started his collaboration with director Xavier Seron with Moonshine, a docudrama that received more than 10 prizes worldwide and was nominated for best short film at the Magritte of Belgian cinéma. His documentary Aparicion was recently selected in festivals like Aix-en-Provence, Amiens, was awarded in Italy, and pre-selected for the Magritte. In 2014, he co-directed The black bear with Xavier Seron, short film selected in a thousand film festivals (Clermont-Ferrand, Gerardmer) and received a dozen awards including best short film at the Magritte.