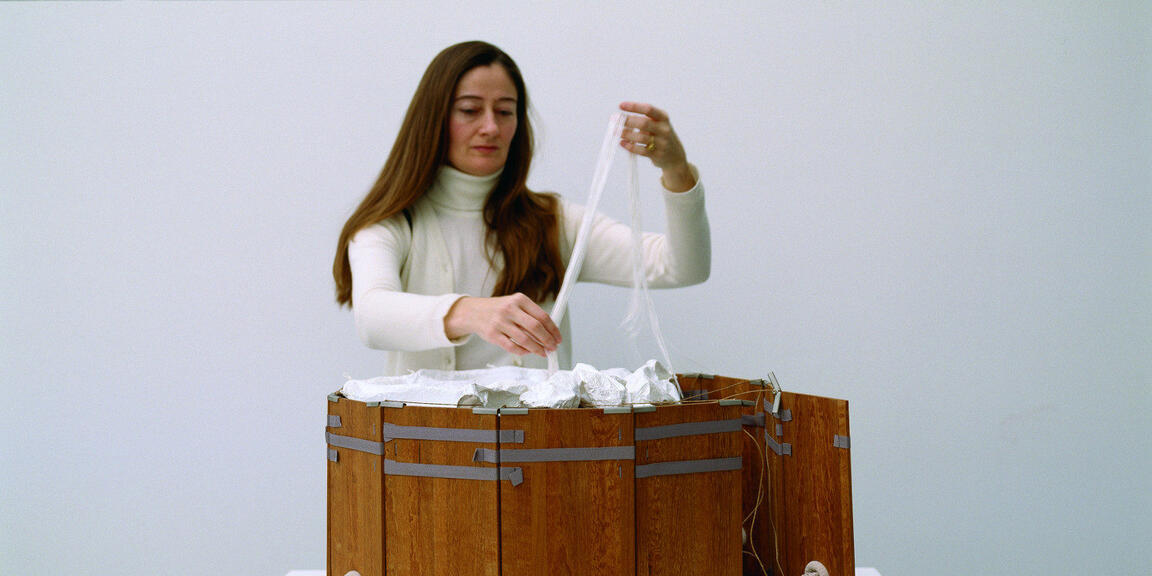 Marie-Ange Guilleminot, accredited by the Villa Arson in 1985, lives and works in Paris. She received the honourable mention in 1997 at the Venice Biennale with the Le Salon de transformtation.
She is very active in the international art scene (the first important acquisition of her work in the United States for the Philadelphia Museum of Art in 1996) then Hiroshima City Museum of Contemporary Art, 2005/ Kyoto Art Center, 2006/ Centre Pompidou Paris, 2010/ Villa Savoye, Le Corbusier, Poissy, 2002/ « Les fantômes de nos actions passées. Man Ray, Sonia Delaunay, Marie-Ange Guilleminot » Villa Noailles, Mallet-Stevens, Hyères, 2014/ Touchez-voir, order of an installation, realized for the Galliera Palace, 2013-2016/ The exposition Laps, at the Cité de la Céramique de Sèvres, presented in 2015 a retrospective of her work. Followed-up by « Destine-moi une maison » at the Art Centre La Chapelle Jeanne d'Arc, Thouars, 2015 as the overview or artistic program of La Maison de Vie which beginning is developed today at the Horta Musuem, fall 2019/ Le Paravent, 1995-2019…
Furthermore in 2018 : Labyrinthe a performance realized at La Monnaie de Paris during a Nuit Blanche, the limited edition of a Florentine bronze and silver piece of jewelry, a co-production with Thalie (Brussels) editions will also be on display at the Horta Museum during Brussels Design September.
Flagey, Design September