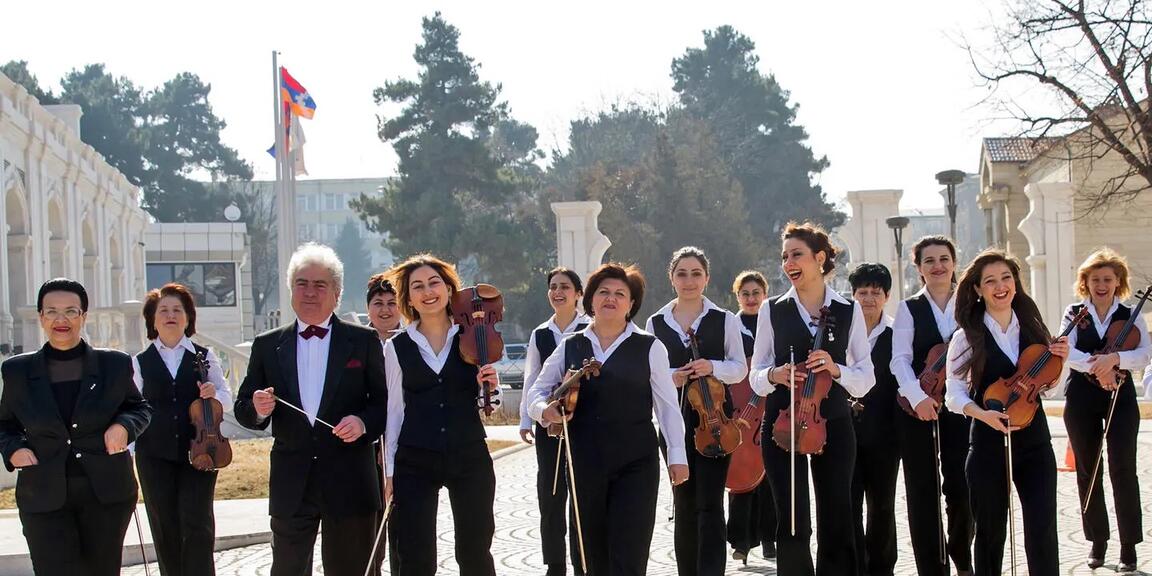 The Artsakh Chamber Orchestra
The Artsakh Chamber Orchestra (ACO) was established in 2004 thanks to the support of the Armenian General Benevolent Union (AGBU). The brainchild of Maestro Gevork Muradyan, ACO came into being when a group of twelve musicians from Yerevan, Armenia, settled in Stepanakert, capital of Artsakh, to launch the Orchestra and were joined by six other local musicians. Over time, this ratio has changed and today most of the members of the orchestra are from Artsakh. ACO has garnered a reputation of being one of the best chamber orchestras in the South Caucasus, with several invitations to perform abroad. Its repertoire includes classic, traditional and liturgical pieces by composers such as Komitas, Tigran Mansuryan, Arno Babadjanian and Camille Saint-Saëns. Despite the 44-day war in 2020 and the following humanitarian crisis which directly impacted the orchestra, the musicians of ACO resumed their activities in the spring 2021with four additional young musicians.
---
The Armenian General Benevolent Union– AGBU
Founded in 1906, the Armenian General Benevolent Union (AGBU) is the largest non-profit organization in the Armenian diaspora. Present in 31 countries and 74 cities, AGBU has regional and local branches around the world as well as an important office in Armenia. Through its educational, cultural and humanitarian programmes, AGBU plays a major role in the socio-economic development of Armenia and the various Armenian Diaspora communities, impacting the lives of more than 500,000 people each year.
Artsakh
Artsakh (or Nagorno-Karabakh) is a small mountainous territory in the South Caucasus, located on the borders of Armenia and Azerbaijan and populated mainly by Armenians. Not recognized by the international community, Artsakh has lived in isolation since its declaration of independence in 1991, following the collapse of the Soviet Union. Since then, AGBU has provided vital assistance to Artsakh in the areas of reconstruction, education and culture.