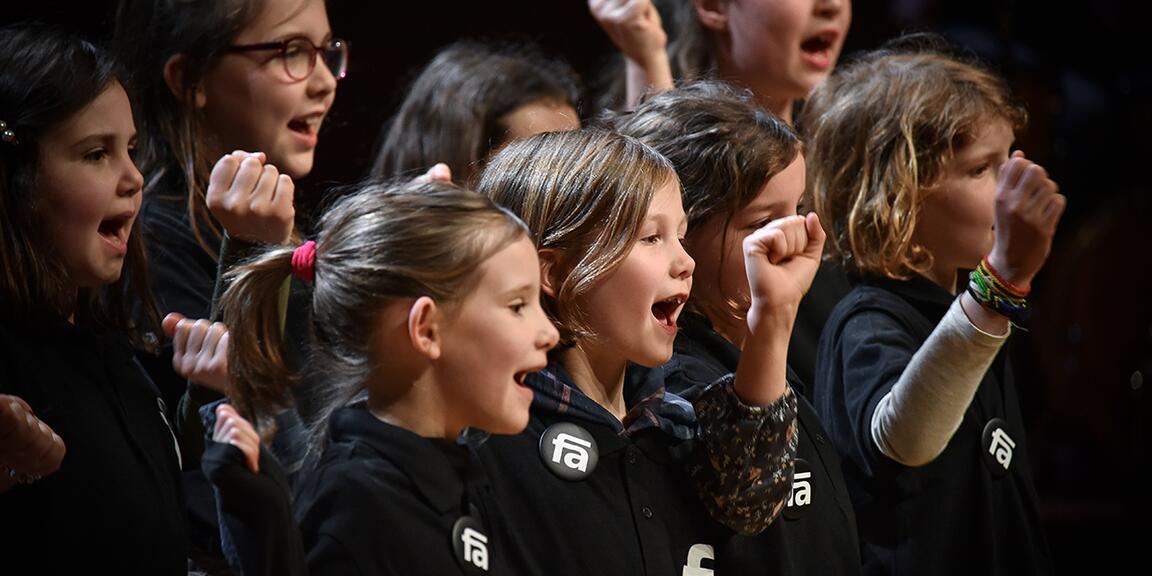 6 - 12 years: Flagey Academy PREP CHOIRS
At preparatory level, Flagey Academy's work starts within primary schools. Professional conductors and music pedagogues lead children's choirs within each school's walls, generally during school hours, in the lunch break or after school, and initiate the youngest candidates in the art of choral singing. Participation is open to all students of the school, aged 6 to 12, on the basis of motivation, but a serious and expects a certain commitment is requested. These children learn about rhythm and intonation and discover the joy of singing as part of a group.
Together with two other Belgian institutions, ReMuA and Singing Molenbeek, Flagey offers choral training at preparatory level under the name of PREP CHOIRS. Across 14 schools, more than 400 children benefit from this choral training.
To boost the children's self-confidence and motivation, they regularly perform in front of an audience. In addition, children from different schools and neighbourhoods can get to know each other through joint activities.
Thanks to joint projects and open rehearsals, the youngest choristers become acquainted with the YOUTH CHOIRS of Flagey Academy, and those who wish to continue singing throughout their teenage years, at a higher level, are encouraged to audition. Auditions are open from age 8.
---
Our conductors : Souad Bahbah, Laura Ford, Francois Haas, Hélène Faux, Laura Ford, Zeno Popescu, Nando Tilkin, Pieter Vandaele