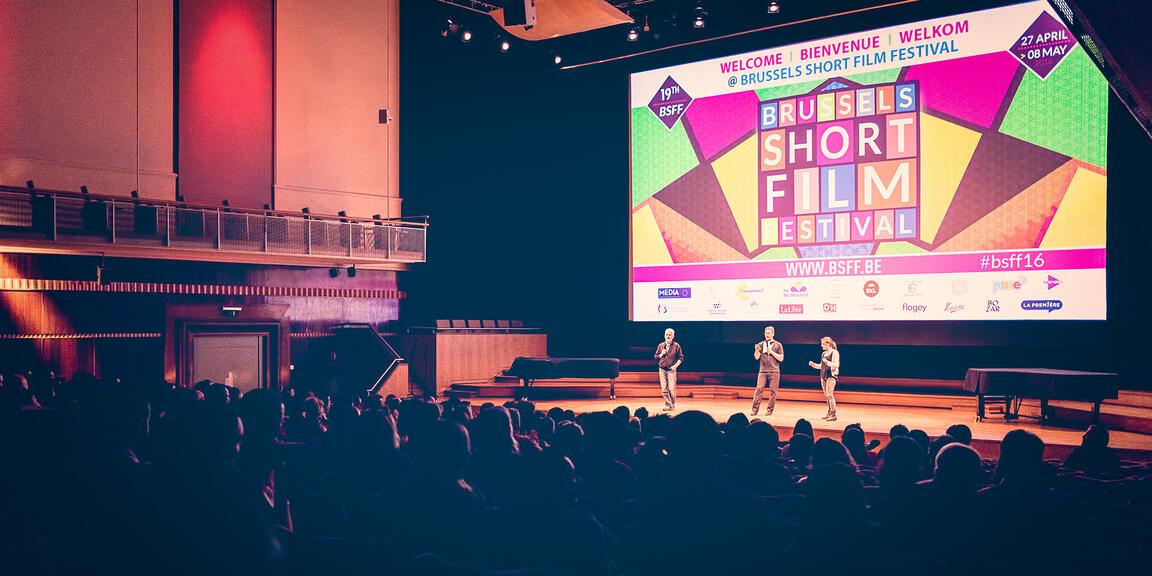 Best of Croatian Animation #2
Brussels Short Film Festival
In 2020, the 'Travelling' section takes you to discover Croatia ! To celebrate the Croatian presidency of the Council of the European Union, the BSFF dedicates a program to the Croatian animation which needs no introduction. Come and discover an inventive cinema thanks to a selection of the best animations of the last years made in Croat
Flagey, Brussels Short Film Festival
---
Tisuću (Thousand) (Danijel Žeželj)
Croatia - Animation - 2014 - 5'45'' - Color/Black and white
Everything is grey. The sun has not risen for years. A legend circles the city: paint the sun a thousand times and it will rise again.

Čoban (Choban) (Matija Pisačić)
Croatia - Animation - 2014 - 18'20'' - Color
Laika, a female dog, is kidnapped and then launched into outer space. Choban, her owner, starts the search and ends up in an underground city. Meanwhile, Laika travels to a planet inhabited by a mysterious black grandmother called Moira who tailors fate and bends time and space.

Dota (Petra Zlonoga)
Croatia - Animation - 2016 - 4'32'' - Color
An audiovisual weave in which an animated line represents the warp, while the female voice represents the filling. She who weaves and that what is woven intertwine through time.

Udahnut život (Imbued Life) (Ivana Bošnjak, Thomas Johnson)
Croatia - Animation - 2019 - 10' - Color
A woman uses her talent for taxidermy to "return" the animals to their natural habitat. However, the true search for the answers begins when she starts finding a roll of undeveloped film in each of the animals she treats. Her obsession drives her to seek the explanation of the connection she feels, haunting her dreams, as well as her waking moments.

Kako se kalio celik (How Steel Was Tempered) (Igor Grubić)
Croatia - Animation - 2008, 2018 - 12' - Color
A father takes his son to an abandoned factory where he once worked. The building has long been reduced to a crumbling symbol of the new system. Nonetheless, the space will briefly be brought to life by recorded scenes of workers solidarity, inspiring a small gesture of defiance. That symbolic act will turn into a moment of catharsis and re-establish the relationship between the father and son.

Miramare (Michaela Müller)
Croatia - Animation - 2009 - 8'08'' - Color
A look into the life on the Mediterranean borders of Europe, where tourists try to relax and 'illegal immigrants' struggle. Breaking out of a strictly confined zone reserved for tourists, two Swiss children will learn very quickly that the reality that surrounds them is a far cry from a cushy life inside the camping site.

Toomas Beneath the Valley of the Wild Wolves (Chintis Lundgren)
Croatia - Animation - 2019 - 18' - Color
Toomas, an exemplary office worker, has to support his family after losing his job, without telling his wife that he also works as a gigolo.

Biciklisti (Cyclists) (Veljko Popovic)
Croatia - Animation - 2018 - 7'20'' - Color
During the final race of the cycling season, the two men in the lead are competing for more than the Grand Trophy: they are fighting for the affection of a lady.